Taj Lake Palace in Udaipur, is one of the most romantic hotels in the world. It was built in 1746 as the pleasure palace of Maharana Jagat Singh II. Taj Lake Palace is one of the most recognisable hotels in the world, and has been featured in many films such as James Bond.
The hotel encompassing a lake on Pichola island can be reached by a short boat ride from the city palace. It can be called one of the most romantic hotels in the world. It is close to the main shopping centres of the city and is 30 minutes distance from the domestic airport. There's also lots of great sights to see near by such as serene lakes, exotic temples and resplendent gardens, and palaces. The concierge are fantastic at assisting you in making arrangements.
Taj Lake Palace
Location: Udaipur India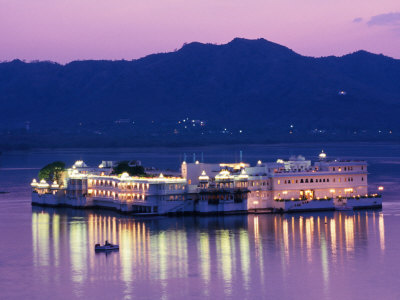 It has Meeting rooms fully equipped with facilities, Wi-Fi, secretarial assistance, interpretation facilities & workstations. They do provide babysitting facilities on prior request. They can provide laptops or computer on hire. The palace has a travel and tour help desk for any enquiry. As both royal abode and luxury hotel, the Taj Lake Palace has captured the affection of the likes of Lord Curzon, Vivien Leigh, Queen Elizabeth, the Shah of Iran, the king of Nepal.
Rooms and services:
The hotel has a total of 66 rooms and 17 suites. The room gives magnificent views of Lake Pichola, city palace and courtyard. You get the option of both smoking and You will also find dining restaurants which are a part of the hotel. You will get to avail the room service facility 24/7. The staff is professional and friendly. The staff makes efforts to learn about them so that they make the experience better. The staff also have great bonding among themselves and they communicate effectively. They even take good care of the kids or infants travelling with you.
There are various restaurants which are a part of the hotel. The ambience of the dinning is praiseworthy. They serve it in good quantity so do take care while ordering. The laal maas by Chef Manish is something not to be missed. If you are planning a stay at the Taj lake palace then you must not miss the activities organized by them. Activities include yoga, musical night, sunset boat rides and also city tours. Each one of them is enjoyable. Even the experience at the spa is very relaxing and worth a try. The way they welcome you is something to look for.
The hotel is more suited for the couples. Prices for rooms start at £250 per night but depends on when you visit.
Hotel website : https://taj.tajhotels.com/en-in/taj-lake-palace-udaipur/